Welcome to the Town of Little Compton Fire Department. The purpose of this web site is to provide you with general information about our department; provide you with specific information about current issue affecting you and your family; update you about our latest incidents and events; and, give you an opportunity to contact us with any questions or comments you may have.
Our site is not only designed to offer you interesting and educational information, but also to reflect the tremendous pride and spirit within our department. We maintain a great respect for our history, and a strong sense of duty towards excellent performance in the present, and we look forward to meeting the challenges of the future. The Little Compton Fire Department is committed to delivering the highest quality of service to the Town of Little Compton in the most effective, efficient, safest, and professional way possible. The fire department provides services in fire suppression, rescue, fire prevention, fire inspection, emergency medical services, ocean rescues and disaster mitigation to list a few.
Our greatest resource, by far, are the 8 dedicated firefighters that currently make up this great department. The firefighters are committed to protecting the Town of Little Compton 24 hours a day, 365 days a year. The department has one station which houses 5 different pieces of up-to-date, well maintained fire apparatus.
Whether you are a seeking specific information or just browsing, whether you are a concerned citizen of our community, or simply a curious fire buff; we trust you will find this web site helpful and informative. We welcome your questions or comments.
Best regards,
Richard G. Petrin
Chief of Department
Rescue Swimmer Training & LC Coastline Boat Training

LCFDL3, September 24

It was a busy week for LCFD. Firefighter Bednarz and Lt Teixeira spent the week in Charlestown, RI, training to become the Departments first Certified Rescue Swimmers. It was a physically demanding week getting tossed around in the waves and getting pulled around by the fast currents in the Charlestown Breachway. The class learned different water entry and various water rescue techniques. While they ... (Full Story & Photos)

Motor Vehicle Accident - Colebrook Rd @ Old Orchard Farm

LCFDL3, August 12

Earlier today, LCFD responded to Colebrook Rd for a Motor Vehicle Accident. The vehicle struck the guard rail near Old Orchard Farm. Traffic was diverted from the area for a short period of time. No injuries were sustained from the accident. LCPD responded to numerous other minor accidents today as well. Be safe!... (Full Story & Photos)

Recruit Firefighter Pierce & Firefighter Bednarz sworn in

LCFDL3, August 10

Tuesday, August 10th, Town Clerk Carol Wordell swore in Recruit Firefighter Matthew Pierce along with FF Jonathan Bednarz. Recruit FF Pierce will be attending the Fall Municipal Fire Academy Recruit Class at the RI Fire Academy. Firefighter Bednarz was a little delayed in being sworn in, but has served our community for the last year. He attended the RI Fire Academy in the Summer of 2020. ... (Full Story & Photos)



(L-R) Recruit M. Pierce, FF J. Bednarz, Town Clerk Carol Wordell



FF Martino & FF Cabral

Support your Local Lemonade stands!

LCFDL3, August 09

Earlier this week, FF Cabral and FF Martino, made a quick stop to support a few young entrepreneurs! LCFD challenges you with a task. When you see a road side lemonade stand, please stop and buy a cup of lemonade. Even if lemonade is not your thing, we ask that you stop and support these young ones and their motivation to get outside and be productive! Whether its turning the lights or siren on for ... (Full Story & Photos)

Station Beautification!

LCFDL3, July 17

Earlier this week, crews took advantage of a nice day and cleaned up the front of the station. Firefighters commonly refer to the station as the firehouse. It houses equipment, apparatus and the crew. It is our house. We treat the Public Safety complex as our house as well, we take care of it and have pride in the building that is our home. A little bit of time and we had the front of that station ... (Full Story & Photos)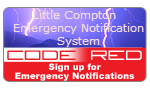 Your feedback is important to us! Feel free to sign the guestbook.