Welcome to the Town of Little Compton Fire Department. The purpose of this web site is to provide you with general information about our department; provide you with specific information about current issue affecting you and your family; update you about our latest incidents and events; and, give you an opportunity to contact us with any questions or comments you may have.
Our site is not only designed to offer you interesting and educational information, but also to reflect the tremendous pride and spirit within our department. We maintain a great respect for our history, and a strong sense of duty towards excellent performance in the present, and we look forward to meeting the challenges of the future. The Little Compton Fire Department is committed to delivering the highest quality of service to the Town of Little Compton in the most effective, efficient, safest, and professional way possible. The fire department provides services in fire suppression, rescue, fire prevention, fire inspection, emergency medical services, ocean rescues and disaster mitigation to list a few.
Our greatest resource, by far, are the 9 dedicated firefighters that currently make up this great department. The firefighters are committed to protecting the Town of Little Compton 24 hours a day, 365 days a year. The department has one station which houses 5 different pieces of up-to-date, well maintained fire apparatus.
Whether you are a seeking specific information or just browsing, whether you are a concerned citizen of our community, or simply a curious fire buff; we trust you will find this web site helpful and informative. We welcome your questions or comments.
Best regards,
Richard G. Petrin
Chief of Department
MVA - West Main Road

LCFD L3, March 08

On Wednesday, March 8, 2023, the LCFD responded to the 300 block of West Main Rd for a report of a motor vehicle accident with unknown injuries. Fire crews arrived on scene and found a single car MVA vs a utility pole. The vehicle involved suffered driver side front end damage, and the utility pole was broken approximately 4 feet from the base. Rhode Island Energy was notified to replace the pole. ... (Full Story & Photos)

Structure Fire - Crandall Road

LCFD L3, March 06

On March 6, 2023, shortly after 5pm Tiverton Fire Department was dispatched to the Adamsville area of Crandall Road for a reported structure fire. The LCFD was in the process of wrapping up another incident at the time the call came in and responded as soon as they became available. When fire crews arrived on scene, they found a shed behind the residence with active fire coming from the structure. ... (Full Story & Photos)

MVA - Pottersville Rd

LCFD L3, March 06

On March 6, 2023, the LCFD responded to the area of Pottersville Rd and Amesbury Ln for a report of a motor vehicle accident. Upon arrival crews found a single vehicle left the roadway and crashed into a stonewall. The vehicle operator was self-extricated from the vehicle upon arrival. No injuries were reported, and the vehicle operator declined medical treatment/transport. ... (Full Story & Photos)

Lions Club 2023 Annual Community Recognition Dinner

LCFD L3, March 03

The Little Compton Fire Department would like to congratulate Firefighter Jonathan Bednarz whom is being awarded Little Compton's Firefighter of the Year. His dedication to the job and to the community goes above and beyond. We would also like to congratulate Little Compton Police Sergeant Ryan LeClaire whom is being recognized as Little Compton's Police Officer of the Year. Thank you both for ... (Full Story & Photos)

Probationary Firefighter William Rose Sworn In

LCFD L3, February 17

Today on February 17, 2023, Town Clerk Carol Wordell swore in probationary firefighter William Rose. William will begin working for the LCFD on Monday February 20, 2023, before reporting to the Municipal Fire Academy Recruit Class at the RI State Fire Academy beginning on March 7. Welcome to the Department! ... (Full Story & Photos)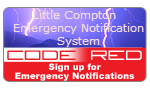 Your feedback is important to us! Feel free to sign the guestbook.