Welcome to the Town of Little Compton Fire Department. The purpose of this web site is to provide you with general information about our department; provide you with specific information about current issue affecting you and your family; update you about our latest incidents and events; and, give you an opportunity to contact us with any questions or comments you may have.
Our site is not only designed to offer you interesting and educational information, but also to reflect the tremendous pride and spirit within our department. We maintain a great respect for our history, and a strong sense of duty towards excellent performance in the present, and we look forward to meeting the challenges of the future. The Little Compton Fire Department is committed to delivering the highest quality of service to the Town of Little Compton in the most effective, efficient, safest, and professional way possible. The fire department provides services in fire suppression, rescue, fire prevention, fire inspection, emergency medical services, ocean rescues and disaster mitigation to list a few.
Our greatest resource, by far, are the 9 dedicated firefighters that currently make up this great department. The firefighters are committed to protecting the Town of Little Compton 24 hours a day, 365 days a year. The department has one station which houses 5 different pieces of up-to-date, well maintained fire apparatus.
Whether you are a seeking specific information or just browsing, whether you are a concerned citizen of our community, or simply a curious fire buff; we trust you will find this web site helpful and informative. We welcome your questions or comments.
Best regards,
Richard G. Petrin
Chief of Department
Probationary Firefighters Start The Fire Academy

LCFD-L3, August 29

On Monday August 29, 2022, LCFD Probationary Firefighters, Randall Medina, Brittany Cunha, and Evan Willard started their training at the Rhode Island State Fire academy. For the next 12 weeks they will attend both classroom and hands-on practical training evolutions with some of the best instructors in the state. We wish them the best of luck, and look forward to them returning in November. ... (Full Story & Photos)

Promotion Announcement!

LCFD, August 25

The LCFD is proud to announce that on Thursday August 25, 2022, firefighter Samuel Hussey was promoted to the rank of Lieutenant. Sam moved to Little Compton in 2012 and has been a member of the LCFD for over 8 years. Congratulations LT! ... (Full Story & Photos)

Bailey's Ledge Structure Fire

LCFD 6, August 01

On Monday August 1, 2022, at approximately 1:30am, LCFD was dispatched to Bailey's Ledge Road for report of a structure fire. The residence was fully involved at the time of arrival. The East Bay Tanker Task Force was activated with mutual aid companies from Tiverton, Westport, Middletown, Warren, and Rehoboth responding. A Portsmouth Engine Company established water supply at the draft site at ... (Full Story & Photos)

Probationary Firefighter Evan Willard Sworn In

LCFD 6, July 25

On Monday July 25th, Town Clerk Carol Wordell swore in probationary firefighter Evan Willard. With Evan joining our ranks, our staffing has increased to 10 full time firefighters! Evan will be attending the Fall Municipal Fire Academy Recruit Class at the RI Fire Academy. ... (Full Story & Photos)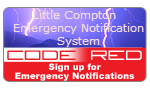 Your feedback is important to us! Feel free to sign the guestbook.